Step 1.
Enter or import data into the fields: END A Equipment, End B Equipment, Signal Type and Signal Flow.
Below is the Multiple Label View from our new system.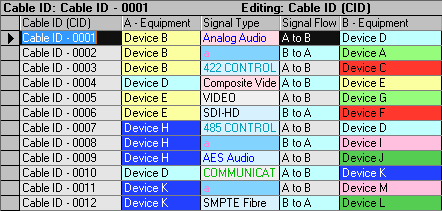 ---
Step 2.
Select and item of equipment and…..
It may seem hard to believe but the block circuit created by "Schematic on the Fly"® is identical to the cable schedule shown above. All this without any additional work by the user.

---
Step 3.
If you need Cable Data as well then "Schematic on the Fly"® will include that also:


All this and you haven't had to draw anything. Cable Management doesn't get any simpler.